News
05.20.15
It was a beautiful morning in Kips Bay today, when the first modular unit of New York's first micro unit building was stacked into place.  The foundation was already in place at 335 E. 27th Street, and what was once called My Micro NY will now be known as Carmel Place.   In 2010, CHPC undertook Making Room, a look into the changing demands of New York City's housing market. We found that 47% of New Yorkers over 25 do not live with a spouse or partner, and today we see that 1 or 2 person households account for 62% of households in NYC.  These findings demonstrated the need to find a newer, and smaller housing solution.  With fine attention to design and utilization of all existing space, the units, which are all between 270 and 350 sq feet, are surprisingly livable.
Tobias Oriwol, Project Developer at Monadnock Development kicked off the event with introductory remarks. Speakers included Eric Enderlin, Deputy Commissioner, NYC Department of Housing Preservation and Development, Purnima Kapur, Executive Director, NYC Department of City Planning, Rick Chandler, Commissioner, NYC Department of Buildings, Rosie Mendez, Councilwomen, NY City Council District 2 and Nick Lembo, Monadnock.
CHPC, executive director, Jerilyn Perine also spoke and championed the potential in building small, "You can create beautiful, small spaces which sacrifice nothing."
When construction is complete, over the course of the next three weeks, the building will consist of 55 units. 40% of those will be offered at affordable rental rates.  While the crowd was wowed by a crane lifting the intact unit into place like a giant Tetris piece, the creative vision and affordable follow through of Carmel Place were the real highlights of the day.
02.25.15
As micro units continue to provide livable solutions to space and cost concerns in cities across the country, New York City will be getting its first prefabricated, micro-apartment complex. Last week, the New York Times toured the Brooklyn Navy Yards home of Capsys Corp., where the My Micro NY units are being assembled.
"My Micro NY, made of prefabricated modular units built at the Brooklyn Navy Yard, will be stacked into place this spring. The apartments will come with kitchenettes, wheelchair-accessible bathrooms, ceilings over nine feet high and big windows. And to help make living in a small space more palatable, tenants will have access to storage units and common spaces scattered throughout the building."
My Micro NY is the winner of Mayor Bloomberg's AdAPT NYC competition to develop an innovative micro-unit apartment housing model. As part of the Making Room: New Models for Housing New Yorkers exhibit organized by CHPC in 2013, visitors were given a chance to explore the pilot micro unit.
"The many two- to four-bedroom units on the rental market "actually better respond to the housing landscape of the 1950s," when homes were designed for families, and not for today, said Sarah Watson, the deputy director of the Citizens Housing and Planning Council. Her organization has developed an initiative, Making Room, that explores expanding New York's housing options…In New York, the Citizens Housing and Planning Council found that the pressure from what Ms. Watson considers "old-fashioned zoning laws" has led to widespread flouting of the law. "Most people sharing apartments together are in some way breaking the rules," Ms. Watson said. Any apartment that is subdivided among more than three people who aren't related is in violation of occupancy rules, for example, and many apartments have locks on bedroom doors, which in many cases blocks the fire exit."
One of the initial objectives of Making Room was to keep pace with the changing needs of New York City's population. We are very excited to see the combination of applicable research, up to date housing regulation policies, and innovative design come to life.
01.30.15
On Thursday, January 29, 2015, CHPC visited the Capsys production site in the Brooklyn Navy Yard to see what's currently rolling down the line–unit modules for the MyMicroNY apartment building that will go up in Manhattan this year!
We were joined by a cohort of graduate students from the Georgia Institute of Technology School of Architecture, led by Professor Michael Gamble. Gamble's students are participating in a three-year initiative that synthesizes efficiency and innovative design.
Capsys specializes in modular building of various sizes and uses, from townhouses to supportive housing. Our group of visitors received an introduction to the MyMicro building from Capsys staff before enjoying a guided tour through the units currently in production. Each of the units, which will be studio apartments ranging in size from 270 to 350 square feet in size, takes about two weeks to complete from start to finish. Capsys predicts that once on-site construction begins, the building will be complete within two-and-one-half weeks.
Later in the day, CHPC joined the Georgia Tech cohort at the showroom of Resource Furniture, which furnished the micro-unit of our Making Room museum exhibition and will be outfitting the MyMicro model unit. Deputy Director Sarah Watson provided the students with the background and principles of Making Room. With a clear picture of the types of households they are serving and the way those households are really living, the students have the best understanding of their needs. That way, they can design spaces that residents can use most effectively.
We are always excited to see Making Room principles in action, and our visit to Capsys offered a tangible result of our work.
01.08.15
Yesterday CHPC staff and a few board members had the wonderful opportunity to accompany Bradley Samuels of Situ Studios on a tour of Uneven Growth: Tactical Urbanisms for Expanding Mega Cities at MoMA.
The exhibition is broken up into six urban case study teams: New York, Rio de Janeiro, Mumbia, Lagos, Hong Kong, and Istanbul.  Walking into the gallery, the visitor experiences a cacophany of sounds and a variety of visual experiences. Full scale maps and illustrations cover the walls; tucked in the back corner is the area devoted to New York City.
Our fair city itself happens to be the least dense of the group but Situ Studio explored, "the hidden densityof New York's informal housing not by trying to shift residents elsewhere, but rather, by proposing a way for communities to thrive within the neighborhoods they already inhabit. By focusing on tactical interventions, additions and renovations of existing housing stock, we envision a landscape of accretive architectural proliferation that populates rooftops, backyards, industrial buildings and other available spaces."
The were able to utilize some of CHPC's data from Making Room to analyze the changing household composition in the city, and highlight the persistence of shared housing, and the growth of singles living alone.  See their video below:
12.11.14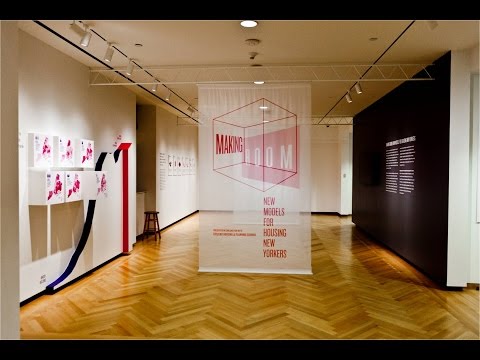 MAKING ROOM: A VIRTUAL TOUR
From January to September 2013, CHPC's Making Room: New Models for Housing New Yorkers exhibition ran at the Museum of the City of New York, and was an unprecedented success. The exhibition covered all aspects of our Making Room initiative to date.
We were completely overwhelmed by the visitor numbers to the exhibition. The opening reception was attended by over 1,000 industry guests—more visitors than for any other exhibition opening event in MCNY history. The first Saturday of the opening week saw a 27.6% increase in attendance compared with the same week the prior year. And between January and September we had an audience of over 150,000 visitors, an estimated 40% of whom were from outside the US.
We conducted personal tours throughout the duration of the exhibition for groups of staff from various New York City and State government agencies, and from other cities and states across the country, including San Francisco, Austin, Georgia, and Boston. We also gave tours to developers, architects, land use planners, housing industry groups, and academics from across the United States and the world, including architects from Tokyo, the Mayor and Chief Architect of Barcelona, developers from London, and many more.
And now you can also have a virtual tour of the exhibition from the comfort of your own computer or device!
Enjoy a full guided tour by curator, Donald Albrecht, and our Deputy Director, Sarah Watson above.
You can also watch an incredible featurette on the exhibition made by film-maker Joanna Arnow: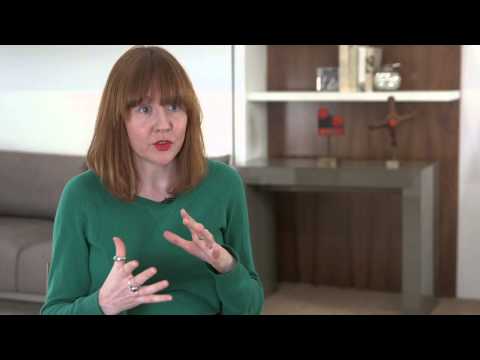 1
2
3
…
9
Next »
News by Topic
News by Housing Type
News by Date