News
01.30.15
On Thursday, January 29, 2015, CHPC visited the Capsys production site in the Brooklyn Navy Yard to see what's currently rolling down the line–unit modules for the MyMicroNY apartment building that will go up in Manhattan this year!
We were joined by a cohort of graduate students from the Georgia Institute of Technology School of Architecture, led by Professor Michael Gamble. Gamble's students are participating in a three-year initiative that synthesizes efficiency and innovative design.
Capsys specializes in modular building of various sizes and uses, from townhouses to supportive housing. Our group of visitors received an introduction to the MyMicro building from Capsys staff before enjoying a guided tour through the units currently in production. Each of the units, which will be studio apartments ranging in size from 270 to 350 square feet in size, takes about two weeks to complete from start to finish. Capsys predicts that once on-site construction begins, the building will be complete within two-and-one-half weeks.
Later in the day, CHPC joined the Georgia Tech cohort at the showroom of Resource Furniture, which furnished the micro-unit of our Making Room museum exhibition and will be outfitting the MyMicro model unit. Deputy Director Sarah Watson provided the students with the background and principles of Making Room. With a clear picture of the types of households they are serving and the way those households are really living, the students have the best understanding of their needs. That way, they can design spaces that residents can use most effectively.
We are always excited to see Making Room principles in action, and our visit to Capsys offered a tangible result of our work.
01.08.15
Yesterday CHPC staff and a few board members had the wonderful opportunity to accompany Bradley Samuels of Situ Studios on a tour of Uneven Growth: Tactical Urbanisms for Expanding Mega Cities at MoMA.
The exhibition is broken up into six urban case study teams: New York, Rio de Janeiro, Mumbia, Lagos, Hong Kong, and Istanbul.  Walking into the gallery, the visitor experiences a cacophany of sounds and a variety of visual experiences. Full scale maps and illustrations cover the walls; tucked in the back corner is the area devoted to New York City.
Our fair city itself happens to be the least dense of the group but Situ Studio explored, "the hidden densityof New York's informal housing not by trying to shift residents elsewhere, but rather, by proposing a way for communities to thrive within the neighborhoods they already inhabit. By focusing on tactical interventions, additions and renovations of existing housing stock, we envision a landscape of accretive architectural proliferation that populates rooftops, backyards, industrial buildings and other available spaces."
The were able to utilize some of CHPC's data from Making Room to analyze the changing household composition in the city, and highlight the persistence of shared housing, and the growth of singles living alone.  See their video below:
12.11.14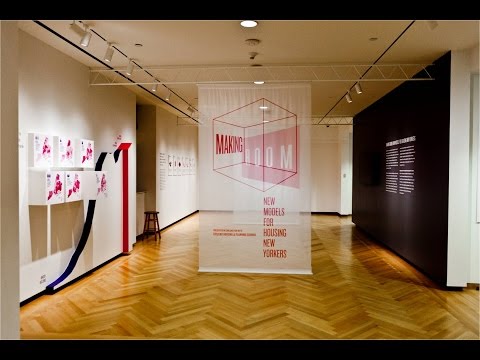 MAKING ROOM: A VIRTUAL TOUR
From January to September 2013, CHPC's Making Room: New Models for Housing New Yorkers exhibition ran at the Museum of the City of New York, and was an unprecedented success. The exhibition covered all aspects of our Making Room initiative to date.
We were completely overwhelmed by the visitor numbers to the exhibition. The opening reception was attended by over 1,000 industry guests—more visitors than for any other exhibition opening event in MCNY history. The first Saturday of the opening week saw a 27.6% increase in attendance compared with the same week the prior year. And between January and September we had an audience of over 150,000 visitors, an estimated 40% of whom were from outside the US.
We conducted personal tours throughout the duration of the exhibition for groups of staff from various New York City and State government agencies, and from other cities and states across the country, including San Francisco, Austin, Georgia, and Boston. We also gave tours to developers, architects, land use planners, housing industry groups, and academics from across the United States and the world, including architects from Tokyo, the Mayor and Chief Architect of Barcelona, developers from London, and many more.
And now you can also have a virtual tour of the exhibition from the comfort of your own computer or device!
Enjoy a full guided tour by curator, Donald Albrecht, and our Deputy Director, Sarah Watson above.
You can also watch an incredible featurette on the exhibition made by film-maker Joanna Arnow: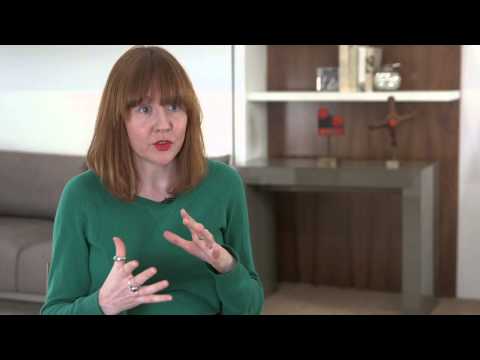 10.16.14
It was so great to be a part of the first Dwell on Design event in NYC! We had so much fun at the LA Dwell of Design and it was an honor to be a part of the first ever Dwell on Design at 82 Mercer Street.
On the Main Stage on the last day, our Deputy Director, Sarah Watson took part on a panel talking about the design of small spaces. She took part in the panel along with Life Edited's David Friedlander and Michael Chen at MKCA Architecture talking about how small space living can be maximized – and why it is so important to produce diverse housing options that include typologies for single adults in the housing marketplace.
We look forward to the continued growth and success of NYC Dwell on Design in the years to come. It has a powerful voice in the future of how design can support urban environments..
09.25.14
Deputy Director, Sarah Watson, will be featured on a panel during Dwell on Design.
Date:Saturday, October 11, 2014-4:00pm to 5:00pm
About the panel:
"Micro-housing is the trend du jour—instead of expansive loft spaces, we're seeing a shift toward city-led social housing competitions and developer-built condo towers with units marketed toward single occupants. Most New Yorkers live somewhere in the middle of the spectrum, packing into spaces between 500 and 1,000 square feet. Dwell invites David Friedlander of LifeEdited (whose Brooklyn apartment was featured in Dwell's September 2014 issue), architect Michael Chen of Normal Projects, and Sarah Watson, deputy director of Citizens Housing Planning Council, to a conversation about making the most of limited square footage."
Register for Dwell on Design here.
« Previous
1
2
3
4
…
10
Next »
News by Topic
News by Housing Type
News by Date