The Pleasures of Density: Flexible Single and Shared Housing on the Grand Concourse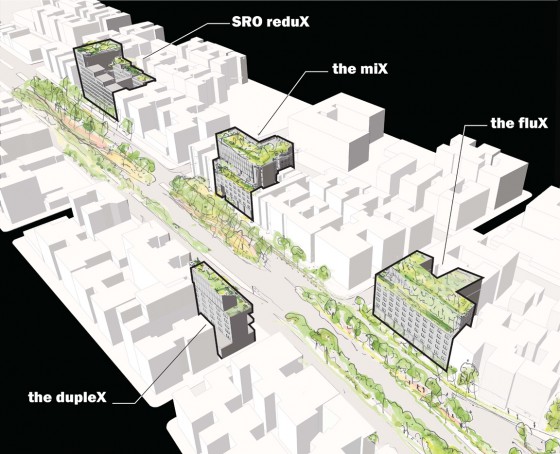 The Mix, The Flux, The Duplex, and The SRO Redux: overall view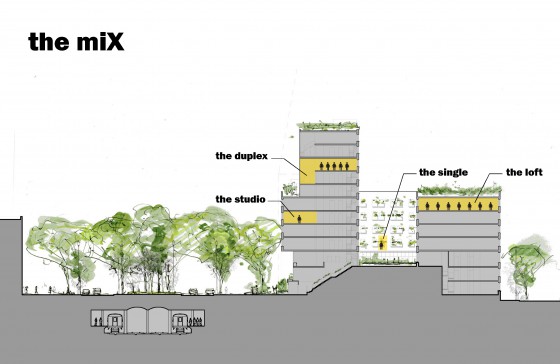 The Mix: building section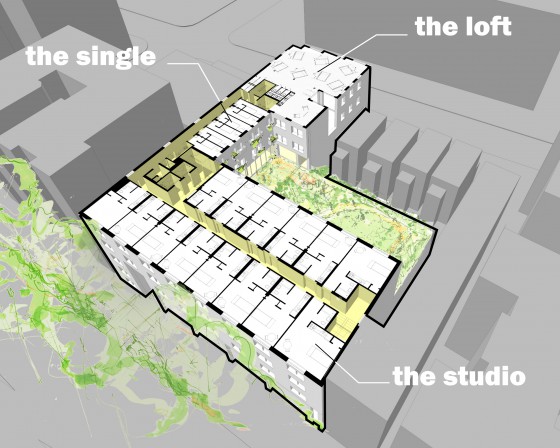 The SRO Redux: section through private, private plus, and shared space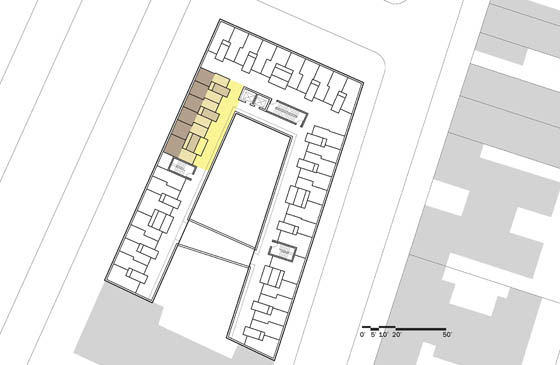 The SRO Redux: typical floor plan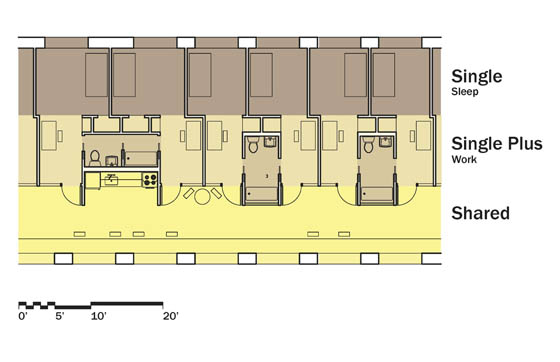 The Flux: overall floor plan with a possible 2,300 sf unit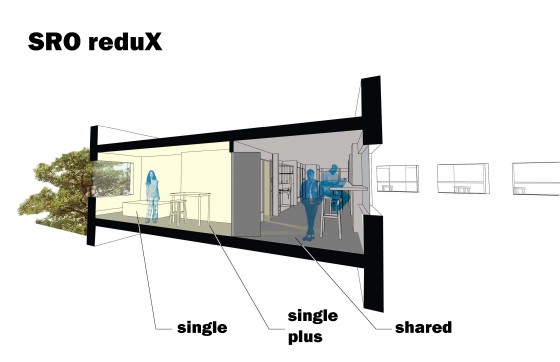 The SRO Redux: section through private, private plus, and shared space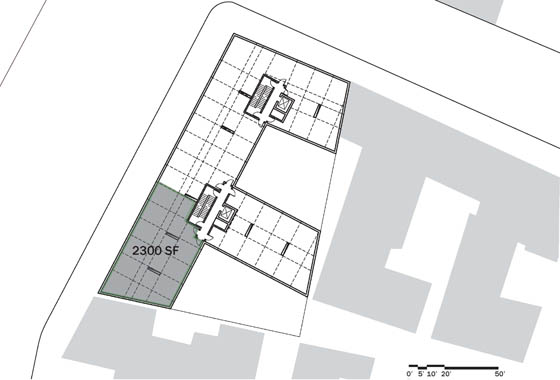 The Flux: overall floor plan with a possible 2,300 sf unit
The Flux: possible layout of a 2,300 sf unit
Team R8 Project Team:
Jonathan Kirschenfeld, lead designer
Karen Kubey and Susanne Schindler, designers
Erin Shnier, modeling and graphics
Nancy Owens, landscape architect
Margaret Tobin, development consultant
This proposal presents four new buildings along a "greened" Grand Concourse in the Bronx, an "R8" zoning district, allowing the densest mid-rise housing in New York City. As a group, the buildings contain an array of apartment types, ranging from very small live-work spaces for singles to very large, reconfigurable apartments for shared households.
We propose to provide this badly needed housing by extending existing "supportive housing" regulations (Use Group III) to market-driven housing development (Use Group II). In many respects, UG III is far more generous than UGII: it allows for a greater number of small units within one building, requires no parking spaces, and is flexible in terms of courtyard dimensions. Realized supportive housing projects, such as those designed by Jonathan Kirschenfeld Architects over the past years, thus provide small studio units with supportive services, typically organized around exterior courts and gardens, providing safe and attractive gathering spaces. This type of housing, however, is currently available only for specific populations, such as the formerly homeless or mentally ill. Our proposal would make this desirable, affordable housing available to all.
The Mix combines four housing types: the studio, the duplex, the loft, and the single. The building's expansive, planted courtyard, with a contiguous event space and day care, connects to the public space of the Grand Concourse and links the individual dwelling units to the city beyond—understood as the building's "living room."
The SRO Redux building provides a hierarchy of sleeping space ("single"), semi-shared work space ("single plus"), and multipurpose corridor ("shared") for every unit. Depending on a need for privacy or a desire for community, residents can easily separate or connect these three zones. Units are arranged in groups of six around shared kitchens; bathrooms are shared by and accessed from two adjacent units.
The Flux allows for a variable build-out of floor-through apartments, ranging from 800 to 2,400 sf. All rooms are dimensioned to allow for sleeping, living, or working, and can easily be interconnected, ensuring privacy within extended households.
The Duplex contains efficient two-story apartments designed for sharing.
Watch video of the team's full presentation
Download project PDF
Designs by Architect