News
01.23.13
Tuesday January 22nd was an eventful day for CHPC! Not only did we celebrate the opening of our Making Room museum exhibition, in partnership with the Museum of the City of New York, with an unprecedented 1000 guests, Mayor Bloomberg also announced the winner of the City's micro-studio pilot project at the exhibit and took a tour for himself! The press response was also overwhelming.
We are absolutely delighted that the Making Room exhibit is now open and will run until September 2013. We overheard hundreds of debates around the future of housing, regulatory reform, design and demographics at the opening party which made us very happy and invigorated for the year ahead.
Congratulations to Monadnock Construction, the Actor's Fund and nArchitects for being selected to build the City's adAPT pilot. A selection of submissions and the winning renderings will be on display at the Making Room exhibition.
We're now launching a series of accompanying public programs at the museum, which begins on Thursday night, January 24th with 'Living Small at Home and Abroad'. A panel of leading architects and designers from around the world to discuss the latest innovations in small home design.
01.20.13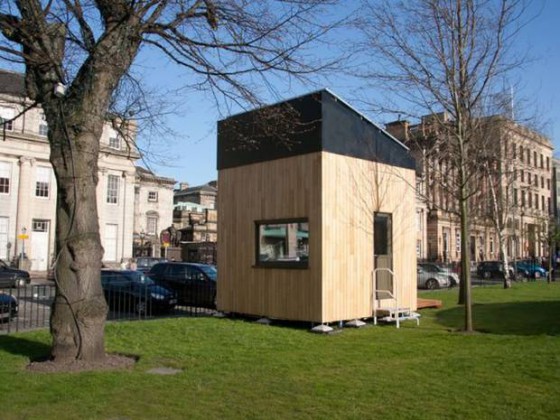 A test posting to ensure tags and such are correct.
I believe the tags here should be for housing type, country and date.
01.18.13
THURSDAY, JANUARY 24 AT 6:30 PM
AT THE MUSEUM OF THE CITY OF NEW YORK

As the population of the world's largest cities continues to outpace the available supply of land, housing, and environmental resources, we must all learn how to live small. What can the experience of cities around the world teach us about living well — both efficiently and comfortably — within smaller and shared spaces?
Join us for a lively discussion with four distinguished architects and designers to discuss the latest innovations in small home design around the world: Azby Brown, founder of the Future Design Institute in Tokyo; Pierluigi Colombo, founder of the Italian transformable furniture company Clei.s.r.l; Ted Smith, a leader in the movement for shared housing in California and beyond; and Nadine Maleh, who has years of experience designing supportive housing here in New York City for Common Ground Communities. Rosalie Genevro, Executive Director of the Architectural League of New York, will moderate.
$6 TICKETS FOR FRIENDS OF CHPC!
Reservations are required.
Enter code CHPC124 when registering online to receive discounted rate.
Regular program ticket prices: $6 Museum members; $8 seniors and students; $12 general public. For more information or to reserve by phone call 917-492-3395.
Co-sponsored by the Architectural League of New York, the Citizens Housing & Planning Council, and Resource Furniture
Presented in conjunction with the exhibition Making Room: New Models for Housing New Yorkers 
Museum of the City of New York
1220 Fifth Avenue at 103rd Street
New York, NY 10029
01.06.13
We are so excited to announce that the opening party for the  CHPC's Making Room museum exhibition will take place on Tuesday January 22nd from 6pm to 8pm at the Museum of the City of New York. The exhibition will then officially open on January 23rd and run until September 2013. To attend this exclusive party, you must send your name to RSVP@mcny.org or call (917) 492-3322.
Making Room: New Models for Housing New Yorkers , organized by CHPC and the Museum of the City of New York,  offers new insights into how our changing social, economic, and cultural lives are re-shaping our housing needs, and presents cutting-edge design innovations that allow our homes to better accommodate the demands of a 21st century urban population.
The exhibition will unveil a built and furnished micro studio apartment for visitors to explore, designed with transformable furniture that ingeniously converts one room into four.   It will present an array of new ideas for safe and comfortable shared housing especially designed for our booming single population, and adaptable homes that can move with the flexibility of a growing and shrinking household. The exhibit will also feature numerous examples of emerging housing types seen in other global cities, including Montreal, Seattle, Hong Kong, and Tokyo, that specifically respond to radical shifts in our housing needs, as well as our new environmental realities.
Making Room will also present the top proposals that came out of the Bloomberg administration's pilot competition, adAPT, which was launched this summer for developer/architect teams to design a building of studio apartments for small households. The winning submission, showcased in the exhibition, will be developed on a site on East 27thStreet in Manhattan, and will test these new housing ideas in the New York City marketplace.
News by Topic
News by Housing Type
News by Date