About Us
Citizens Housing & Planning Council's (CHPC) mission, since 1937, is to advance practical public policies by better understanding New York City's most pressing housing and neighborhood needs across the five boroughs.
We are a Council of leading professionals from every industry that shapes the residential built environment. We share the conviction that by working together we can promote solutions for the long-term progress of the city.
CHPC speaks as a trusted and impartial voice to improve housing for all New Yorkers.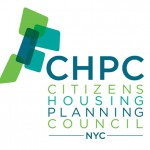 Project Sponsors